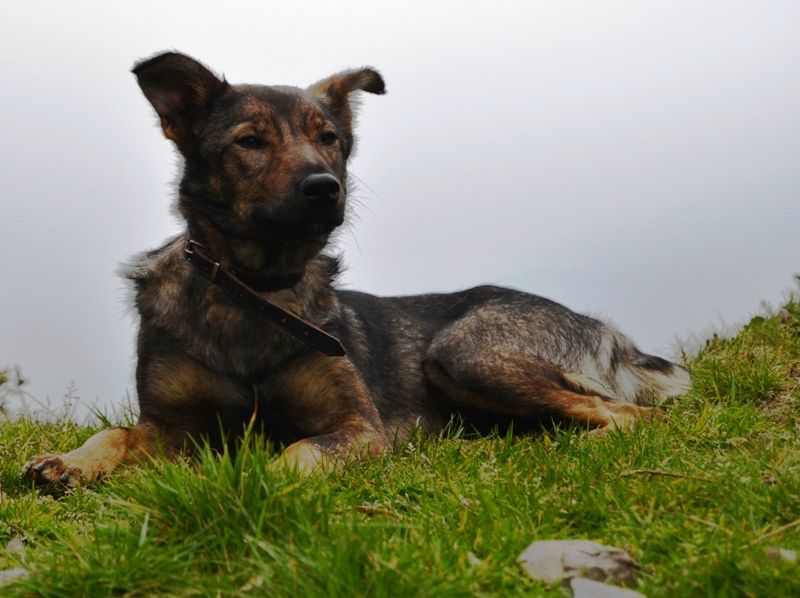 Jara
Jara was found on a rainy afternoon in January - wet and miserable. She is a medium-sized very sweet young dog with eyes that can only make your heart melt.
We think she was born around October 2012, she is medium sized at just 15.5 kg and a height of ca 48 cm. Her tail is docked, probably from birth.
She loves everybody and is looking for a home. She lives with a cat in her foster home, and tries to play with him and the cat pays hide and seek with her. Jara is slowly getting more confident, still loves to snuggle up to you but is also showing she is a very playful young dog. She likes to play with the big dogs and sometimes really annoys them, but she seems to get away with it. She also comes at the shelter walks with more than 10 different dogs and she does very well, she is quiet and stays close to her carers. Jara loves travelling by car and she does not mind crating, although at night she prefers sleeping on your bed or in her basket next to the bed. She is also your perfect office dog, sleeping quietly until things are happening again. Besides playing with all the other dogs, even old grumpy Tufo, she likes to chase insects on the lawn.
One of our volunteers writes about Jara:
My time spent with Jara will be time that I will forever treasure. She is such a wonderful dog with such a kind spirit. I spent two weeks volunteering with her and I bonded quite quickly. Jara loves to go for walks and will always check to make sure you are still with her as you walk. She is very concerned that the "pack" stays together. Jara is very much in need of a loving owner who wants to be very close with their dog. She needs a loving home, and the love will undoubtbly be returned. She is also a HUGE snuggler and makes a very warm blnket if you need! Jara is very loyal and you notice this right away while being with her. She is playful and will spend hours out playing and chasing (her favourite) butterflys. I wanted to adopt her myself but I am not in the right place or time to. Hopefully you are lucky enough to be.
More pictures and videos you can find following this
link
For more information about adopting Jara in Germany, the UK or the Netherlands, please contact Anjo
UPDATE JULY 2014: Jara will be travelling to France where one of our volunteers' mums will be fostering her with the option for adoption.